Termites
Queensland is a breeding ground for termites, and Maryborough and Hervey Bay are no exception. You might be more familiar with the term white ants, but whichever name you use, these pests cause havock to the integrity of buildings.
This is because termites live off and inhabit wood, making buildings with wooden frames a hot target, and they move fast! An infestation of termites can cause serious structural damage and can compromise the safety of your building if left untreated.
Especially when buying a property, but also on completion of a new-build, we strongly recommend getting a termite inspection. Our pest inspections can alert you of a current infestation and identify whether past infestations have occurred, along with the extend of damage.
We have non-invasive techniques to discover the termintes, such as; 
Termatrac - a radar technology that picks up on termites dwelling within walls.

Moisture Meters-

 

a tool that picks up on the moisture within walls which termites are attracted to.

Thermal Imaging Cameras –Used to pick up the termites and termite workings heat signature within a dwelling, wall or roof space.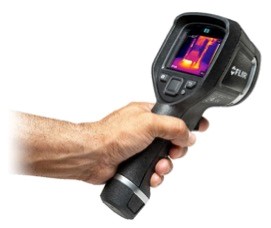 We use the latest in termite inspection technology the Flir E-Series infrared camera. This thermal imaging camera has an impressive image resolution (up to 320 x 240 pixels) and every additional pixel means you're getting more valuable temperature information to help pinpoint the infestation. 
This camera makes early detection possible because it can detect even very minor temperature changes. Our inspectors are trained to use and interpret this top of the range piece of equipment to ensure that they picked up on all infestations.
We can also provide a Bore 'n Scope test which gives us access to wall cavities, a common place for termites to hide.
To prevent the bath from turning up in the living room, call us for a free quote on 1800 466 456 or email us today.
Other options we offer for the prevention of a termite infestation;
Chemical Barriers
Homeguard
ALTIS reticulation
FMC
Biflex, and
Termidor
Maryborough & Hervey Bay
Phone: 1800 466 456
PO Box 24
Hervey Bay QLD 4655
158 Boat Harbour Drv
Hervey Bay QLD 4655